Well, that seals the deal.
Definitely getting an epidural.
Abso-freaking-lutely.
I woke up with a Charlie Horse this morning. A CHARLIE HORSE. And the pain was unreal.
And no, I don't mean I casually woke up and through the course of events the charlie horse happened... the pain literally shook me from a restful sleep to me panicking and reaching for my husband who had already woken up and was downstairs.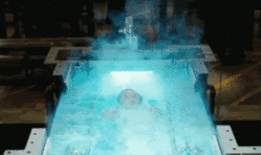 Yeah, this is pretty much how it happened.
Side note: How hot is Hugh Jackman in this scene?
"Baaaaaaaaaby! BAAAAAAAAABY!!!!" I screamed to him.
He runs upstairs, nervous that something worse is going on. Given my screams, I don't blame him for being scared.
In my most pathetic voice ever I push out the words, "I have a charlie horse... WHAT. DO. I. DOOOOOOOOOOOOOOO????"
The pain lasted at least a minute, which doesn't seem like that long, but since the pain was so intense time slowed down. I felt like I was being cut open or something. Terrible pain.
My husband, a physical therapist, told me to flex my feet forward.
More pain ensues. Flexing your foot is not a natural instinct. The pain from flexing made the charlie horse even worse. "Ouchhhhh" I squeak out. My husband just goes, "Yeah, I know... it hurts," in a very calming way.
Shortly after the pain subsided.
And then I got up and got ready for my day. An hour before my alarm normally goes off.